Tiger Trailers, a Cheshire-based leading manufacturer of heavy commercial vehicle trailers, has once again demonstrated its commitment to the local community by marking this year's Road Safety Week, November 14th to 18th, in a number of different ways in support of charity Brake, whom the firm is mid-way through its current donation arrangement with.
On the Tuesday of Road Safety Week 2022, which had the theme 'Safe Roads For All', Tiger Trailers along with Cheshire Fire and Rescue Service plus neighbouring Winsford business Combined Tyres & Autocare, provided free winter car checks to the manufacturer's employees and also to members of the local public. Comprehensive seasonal safety checks were undertaken on the cars of participating drivers, who each received a pack of complimentary accessories including an ice-scraper from Cheshire West and Chester Council, and a tyre tread depth gauge provided by Cheshire Fire and Rescue Service. The emergency services organisation also provided a 'Winter Driving Advice' booklet sponsored by Tyres On The Drive and endorsed by National Highways, covering how to prepare for winter motoring and to adapt the driving style to suit weather conditions.
Cheshire charity Passion For Learning, which Tiger regularly supports, brought fifteen youngsters from a Knutsford school to spend a day at the manufacturer's factory during Road Safety Week 2022, where they were given an insight into different career opportunities, taught safety lessons, and spent time with the company's engineering department, designing and bringing to life fluorescent 3D keyrings to help them stay safe in the dark winter months.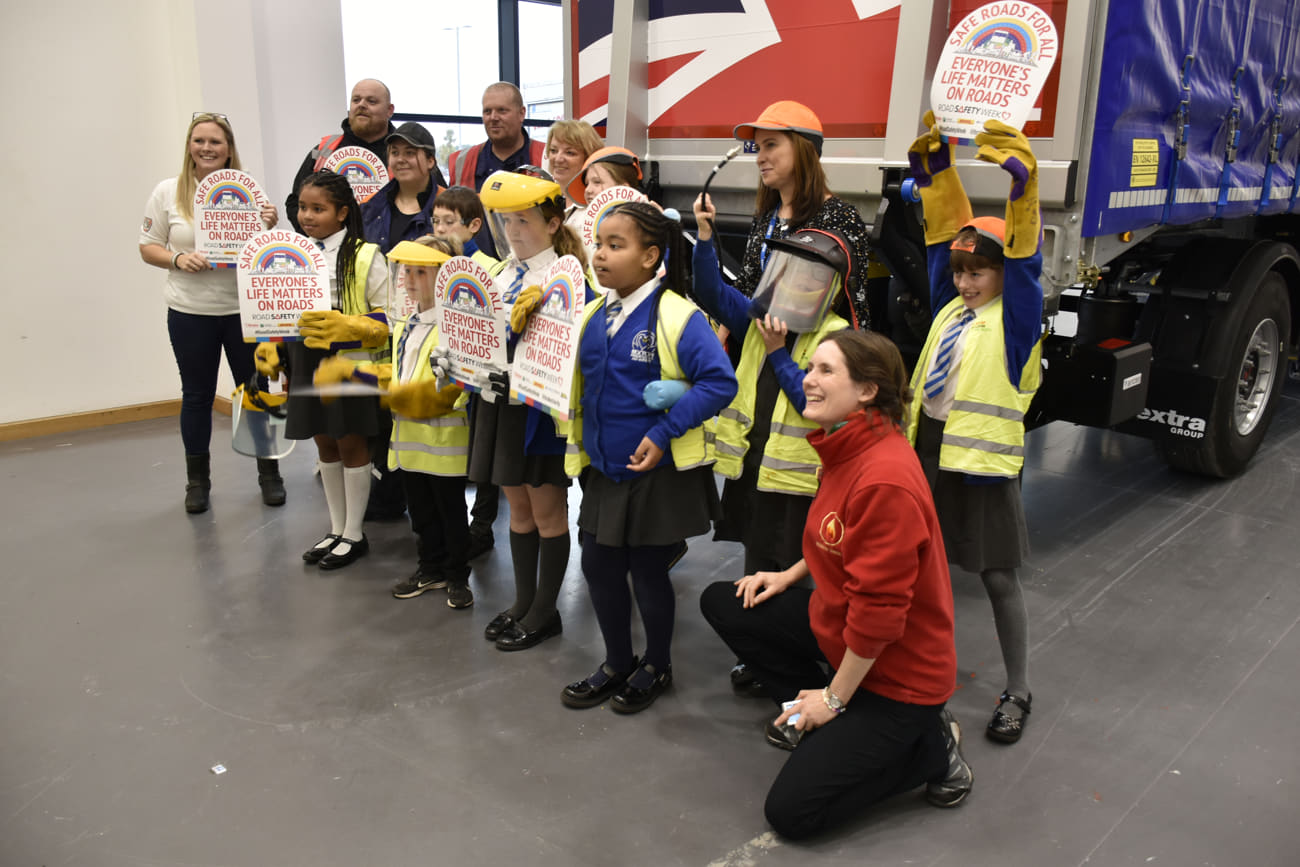 Completing Tiger Trailers' trio of initiatives during Road Safety Week 2022, cakes with a road safety theme were sold in the staff canteen on the Friday and all proceeds were donated to Brake.
Tiger Trailers' multi-faceted involvement comes exactly a year after launching the Tiger Safety Team and its school road safety programme including mascot Tiger Ted, a branded trailer, and a number of educational publications during Road Safety Week 2021.
Alison Cartwright, Tiger Trailers' Corporate Social Responsibility Manager, says: "Twelve months on from launching our Tiger Safety Team, during which time we've visited and welcomed nearly 1,000 Cheshire school children and taught them life-saving lessons with a real-life truck, we were delighted to support Brake again by participating in this year's Road Safety Week in these different ways. We would like to thank the organisations who joined us during the week and are proud to be collaborating with them and others with the shared goal of keeping young people and wider communities safe."
Earlier this year, Alison Cartwright was a finalist at the UK Fleet Champions Awards after she was nominated for the Kevin Storey Award for Outstanding Commitment to Road Safety, sponsored by Samsara, for the organisation or individual that has gone above and beyond the call of duty in their commitment to road safety, not just within the company but also the wider community.
Cheshire Fire and Rescue Service Road Safety Manager Ryan Swindells said: "The event was a great success, and we'd like to thank Tiger Trailers for helping to keep their staff safe this winter. Cheshire Fire and Rescue Service is committed to keeping Cheshire's roads safer for everyone. Our aim is to reduce fatalities and serious injuries through collaborative work such as this with Tiger Trailers. Driving in wet conditions can be hazardous, but people have a better chance of staying safe if they are prepared."
Tiger Trailers regularly supports its local communities through organisations such as the Cheshire Community Foundation, engages with charities including Cheshire Buddies, Passion For Learning and Mentell, and has recently welcomed its first student from The Prince's Trust. Its road safety programme is provided free of charge to Cheshire schools, and the manufacturer's corporate social responsibility (CSR) activities are complemented by various environmental, social, and governance (ESG) initiatives, from solar panels and tree-planting to a dozen EV chargers including rapids.